April 26, 2013
At long last…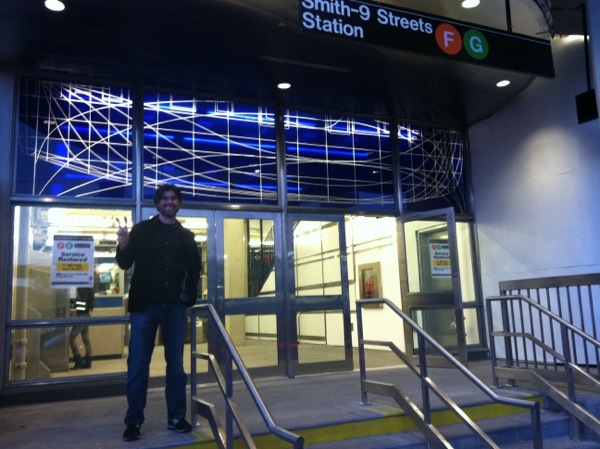 Someone made an auto-tune video about the joy of taking this station. Well done!


April 4, 2013
I'm taking this as a good sign.
There's a deli next to the Smith and 9th Subway station, that was closed completely in June 2011 for repairs. I asked the guy who served me coffee when he thought the station would open again. "This month!" he declared. He may be right according to RT&S. Mark your calendars for 4/22. If I'm not busy, I'll cover it live via UStream. But I've heard such promises before (nice try Gothamist). They said the station would reopen at the end of 2012, but then Sandy hit. There are other signs of progress or at least strange architectural decisions.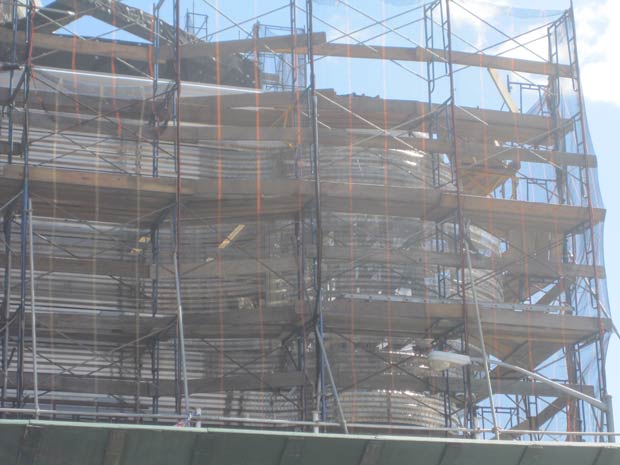 The material looks like aluminum and it reminds me of an Ikea kitchen accessory. Here's MTA's artist rendering to get the full picture of what they're going for.
March 25th, 2013
Progress!
That is an actual MTA Subway booth being installed into the F&G Train Subway Station at Smith & 9th. And right next to that? An actual subway card vending machine! Why am I so excited?
A little background…
In August 2012 I moved into an apartment on the corner of Smith Street & 9th Street in Carroll Gardens, Brooklyn. From my front door it's a mere 50 steps to the Smith & 9th Subway stop for the F & G Trains. But that station had been under construction for months (much to the consternation of everyone in Red Hook). Added to that is a huge project to refurbish the entire viaduct that spans the Gowanas canal. It's the tallest elevated train on the planet.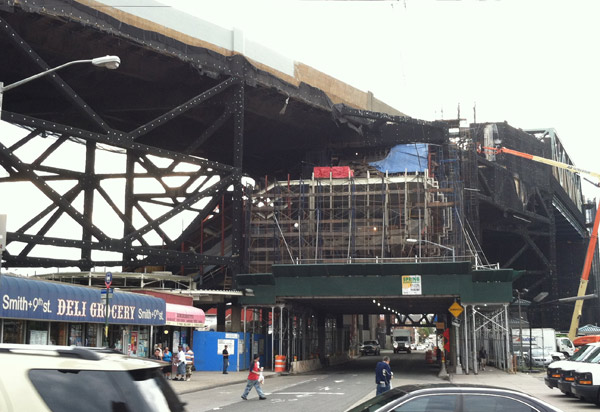 BEEP! BEEP! BEEP! Sorry I have to pause while a construction lift drives past my window. Every morning around 7:55 AM they start. Usually two hydraulic lifts are used to take construction workers 50 feet in the air to start jack-hammering the old concrete. When they both move the BEEPS double. BEEP BEEP BE-BEEP B-BEEP BE-BEE-EP.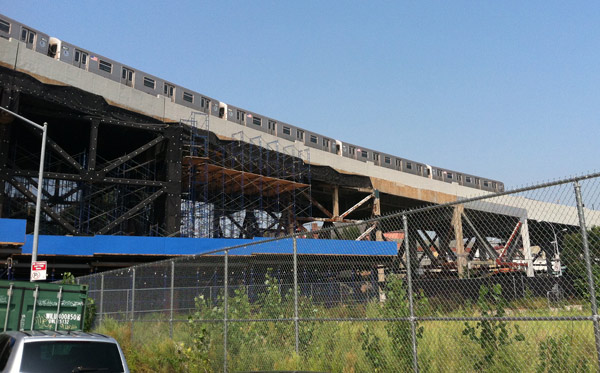 I swear since I moved in August 2012, the scaffolding has moved down the street approximately 15 yards. That's it!
The purpose of this blog is to track this construction project. So be sure to stop back and see what happens next. And by all means, add your FnG Station stories and photos.