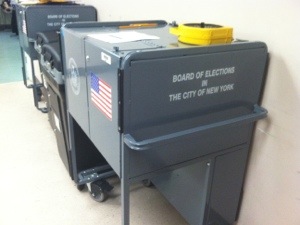 10/31/2012 – Brooklyn, NY – 3:02 PM
Happy Halloween! I am in a very scary place indeed – the Board of Election's Office in Brooklyn. I need to vote absentee here in person because I won't be in NYC on November 6th. I will be in Ohio, volunteering for the re-election of President Barack Obama. I view the President as a competent and moderate Democrat who has guided our country's economy and foreign policy from the brink of disaster.
I'm somewhat amazed that this office is even open considering Hurricane Sandy has shut down their system when it struck the East Coast two days ago. The nice gentleman who explained how to fill in the absentee ballots informed us that he has only one person to pull ballots, which vary according to where a voter lives down to the specific street, from a room filled with thousands of boxes. Our estimated wait time – up to three hours.
That's okay, though. I have to vote. I can't convince the voters of Ohio to vote if I haven't. At least I'm in a heated room with access to a bathroom and vending machines. I remember the footage from Ohio during the last two elections. People waiting outdoors in the rain, sometimes for hours. How can I stand with them next week if I wimp out on my home court?
Day One – Escape From New York
11/2/12 – 10:36 AM – New York City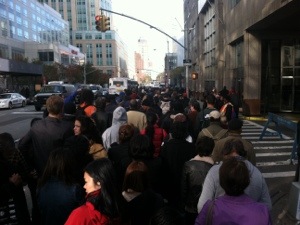 Lower Manhattan hasn't had power since Monday night. The free shuttle from Brooklyn is my only option. Kudos to MTA and the NYPD for getting thousands of stunned citizens over the East River.
I wonder what the rest of America thought when they heard the lights went out in NYC. Did they assume the city would tear itself apart? I haven't heard of one incident of lawlessness in the entire aftermath of Sandy. I am both proud of my city and, to be honest, a little bit surprised.
Sandy did what The Occupy Movement couldn't: Shut down Wall Street and remind the world that community is more valuable than money.
11/2/12 – 11:53 AM – Obama NYC Headquarters
Volunteers are gathering in an empty office space. I've been assigned to the Red Bus. People are chatting about Sandy, learning each others names. It's a healthy mix if different ages & ethnicities. I should stop blogging in the corner and meet people. Go Red Bus!
11/2/12 – 5:45 PM – Little South of Allentown, PA
The Red Bus & most of the other buses were about 3 hours late out of NYC. All four buses are in a caravan. All four buses just pulled off the highway for some reason and it just started to rain. My heart sank at the thought of not getting into Cleveland until tomorrow. That's right, Cleveland. That's our destination. The head of Obama NY told us Cleveland is critical for winning the State and subsequently, the nation. Nate Silver agrees. His four word explanation as to why the President is favored: "Obama's ahead in Ohio."
Google Nate if you don't know who I'm talking about. Elections make for strange celebrities. It's made Mr. Silver, a nerdy statistician, into a rock star. May his prediction be true. And so too the words of Drew Carey: "Cleveland Rocks."
The buses are off the shoulder and back on the road. But it's still raining.
11/2/12 – 11:27 PM – Somewhere near Pittsburgh
The bus driver hit his brights. Suddenly snow is visible on the sides of the road. We've driven into Winter.
We've lost a bus. Big Green is down. Don't despair folks, Team Red Bus will save some canvassing for you. BTW the buses aren't painted these colors, it's just that when people where assigned to each bus they were given color coded stickers. Our bus folks all wore little red sticker dots. I'm keeping mine for the scrap book.
11/3/12 – 1:32 AM – Ohio
Sweet Jesus & all that is holy – We're the Buckeye State.
Day Two – Fired Up!
11/3/12 – 12:09 – Euclid, Ohio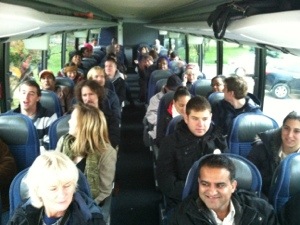 The Red bus has been renamed – The Metro Cards. We had a vote (video coming soon) to decide this new moniker. I like the name, but I was also a fan of NY Warriors. Love that movie. "Warriors! Come out and playyyyyy!" Now that we have our name it's time to meet some Ohioans. It's been a little confusing but spirits are up.
11/3/12 – 2:01 PM – Euclid, Ohio
Canvassing. If you've never done it, you should consider trying. You basically walk around and knock on doors. You talk with people about supporting Obama, early voting, & you gather information. Wish I can say it's super glamorous, like an episode of The West Wing, but it's not. It is important though.
11/3/12 – 4:30 PM – Euclid Field Office / Wards 1-4
Done with my "packet" – A set of names, addresses, & data that you fill out after knocking on a lot of doors. My partner, Jean, & I are grabbing another packet and heading out for more. It's pretty cold & I left my gloves at the church basement where they are housing us.
Did I mention this isn't glamorous? I've been firebombing Facebook with links for how to volunteer. But now I realize writing about what a grind it can be might not be selling the idea to potential recruits. You can do phone banking, which is similar to what I'm doing but using your phone from the comfort of home. I kept meaning to log onto Obama.com and make calls all last month. But I know myself too well. I needed to dive into deep end versus procrastinate and feel guilty with inaction. The right choice was to get out of town & away from all the distractions of Brooklyn. If you're interested in making phone calls, it's easy to find a phone bank event in your area. Do it! Don't be that person, who is frustrated the day after the election & wishing they could have done something.
11/3/12 – 8:10 PM – On the bus
I just learned that Stevie Wonder was in town today playing a free outdoor concert. If I had known I would have dropped my canvassing papers in the garbage and gotten a cab to the show. I'm kidding. But think about it. How many canvassers bail on door knocking when a key speaker or performer is close by. Two of the NYC buses went to Columbus where the President and Bruce Springsteen are appearing. I would have loved to have been there (although I'm more a fan of his early work…Obama's that is). I kid!
11/3/12 – 11:11 PM – Imani Temple
Back at the church where we're being housed. The Obama campaign provided yummy Mexican food and much needed air mattresses. I'm too tired to watch Louie CK on SNL. I consider that the biggest sacrifice I've made to date. Can't wait to knock on doors tomorrow. Firedup.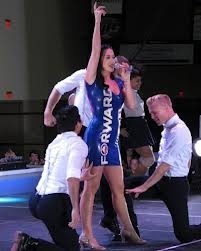 Good night dear readers. As a reward for slogging through this text heavy blog I give you Katy Perry in a minidress at a recent Obama rally.
Okay, screw it. Everyone is watching SNL in the kitchen so I'm going to stay up and watch it.
11/4/12 – 9:00 AM – Imani Temple
I was outside on the phone when a giant buck ran out from behind the building. I had to grab Michael to witness what I was looking. I can't tell how many points his antlers had because I don't know how to count them. All I know is – He was a 'biggun'. He stared at Michael and I for a bit & didn't look the least intimidated. After he ran off I said, "I'm take this as a good sign." Time to go knock on doors early on a Sunday. If people complain I'll simply remind them of daylight savings & that it's not as early as they think. In fact it's late as this election is almost over. Fired up. Ready to go.
11/4/12 – 2:12 PM – Tungsten Field Office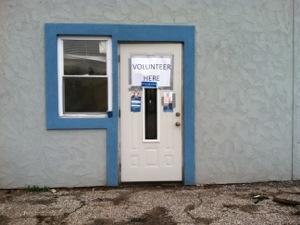 Due to mass confusion yesterday, we decided to name the four field offices after the streets they are on. The plan was working fine until they sent us New Yorkers to another field office on Euclid. For top secret reasons, I decided we should call it Euclid 5. Okay, I'll let you in on the secret. Euclid 5 is our fifth office.
This is my second day at the Tungsten office. I did solo canvassing this morning. I knocked on 116 doors in one shift. I hope that's some sort of record.
11/4/12 – 6:00 PM – East Cleveland
I'm hoping my mother doesn't read this post.
There was talk of ending early at the Tungsten office. It's been a pretty smooth experience at that office. The houses and apartments I've been canvassing are not opulent but humble and the people are friendly. Then the field coordinator got a request for people in East Cleveland. Six of us were drive over as the sun was going down.
We were given a 'packet' of addresses and dropped off in the dark. This area was not good. The brick complexes were mostly dark. The address signs were hard to read and the lobbies were pitch dark. My partner, Anshul, were leery of the assignment immediately. We carried on, using our iPhone flashlight apps to find apartment numbers in the pitch black lobbies. Nobody was answering, which was kinda a relief to be honest. As we worked our way up the hill I was disheartened by the total lack of street lights & number of shuttered buildings. The canvass lists are often out of date. But part of the job is to identify vacant buildings for future lists. Hopefully, the data we gathered will prevent future canvassers from wasting their time there. This was the second pas through this list. Next to the addresses on one building the first canvasser left a note. It read, "Scarred to death. Not recommended."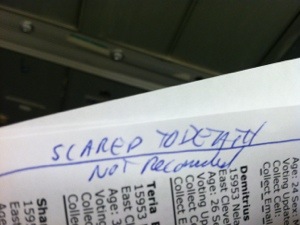 I was shuffling paperwork when Anschul, in his thick Indian accent, looked around and said, "This reminds me of the movie Traffic." I started laughing and couldn't stop.
We worked up the courage to go into the scariest building yet. There seemed to be nobody inside and again the lobby was pitch black. I hit a doorbell as Anschul pulled on the doorknob. "It's open," he said and walked in. For reasons unknown I followed him in. The stairs were shredded and one of the apartments was open. Anschul started up the stairs and both of got hit with a smell so toxic it made us both gag. I've never smelled meth being cooked before but I suspected that's what it was. "Let's get the hell out of here," I yelled. After Anschul stopped coughing and gagging we called the office coordinator to pick us up.
Day Four – The End Is Near
11/5/12 – 8:47 AM – On The Bus
The TV in the kitchen had on Morning Joe. They showed a poll that had a tie in Pennsylvania. It freaked everyone out. It's just one poll, but it shows the razor thin margins we're dealing with across the nation. I scrambled back the loving arms of Nate Silver. Imagine if that guy is wrong, eh? I swear a mob of angry liberals will swarm his house and pelt him with scalding hot lattes.
The New Yorkers are being spread around to new offices today. We're like Union reserve soldiers being thrown into the battle wherever there's a gap in the lines.
11/5/12 – 8:15 PM – On The Bus
You can't make this stuff up.
The first canvassing trip was in the suburbs. I must have walked 3 or 4 miles.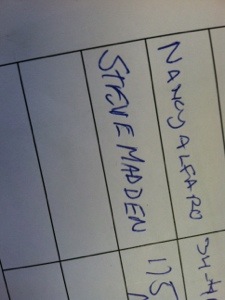 When got back to the field office, Alison the office captain, was smiling. She informed us that Steve Madden, the shoe designer, and a bunch of his associates flew into Ohio for the day to volunteer. As she spoke Mr. Madden was out canvassing just like the rest of us. Sure enough he came in from the cold an hour later filled with positive energy. Mr. Madden and his friends from NYC were working hard, meeting Ohioans, & were (of course) impeccably attired. Go buy his shoes. He's a mensch.
11/5/12 – 11:25 PM – Imani Temple
Drinking Miller High Life & watching the President's last campaign speech live from Iowa in the company of The Metrocards of NYC on the eve of our final day of volunteering. There's no where else on Earth I'd rather be. Please, if you can. Think of what this election means and do something to help this President & this country tomorrow. See you at the polls.
Day Five – End Game
11/6/12 – 6:40 AM – Imani Temple
The polls in Ohio are now open.
11/6/12 – 11:30 AM – East Cleveland
The sun is out. So much better to canvass when the weather is good. There's a Cessna overhead flying a banner which reads, "Polls are open now > Vote Obama/Biden". Our team controls the air. I wonder if the campaign had a flotilla. We know Romney has a Calvary if dancing horses.
11/6/12 – 6:03 PM – Larchmere Blvd
One 1/2 hours until the polls close. My ankle is super sore. I hope to bath it in whiskey soon (& victory). Last push. Come on Ohio!
11/6/12 – 8:30 PM – Imani Temple
The polls are closed. The talking news bags are playing with their touch screens. Our bus is heading in search of beer and food.
Epilogue
11/8/12 – 8:59 AM – Brooklyn, NY
Around 11 PM the polls closed in the West Coast states and all the networks called the race for the President. We wound up in a downtown Cleveland bar called Barley House. They tolerated us & gave us bar food. They even turned up the sound on MSNBC. That is, until the election was called for the President. Then they switched it back to cock rock for their douche bag clientele. A lot of tour group were pissed and started to flame the bar on Yelp. We loaded the bus and headed back to the Imani Temple.
The next day we drove back to the city. Waiting for us was a Nor'easter that brought half a foot of snow to our home.
The final tabulations:
Buses from the NYC Obama For America office – 4
Volunteers sent to East Cleveland – 220
Estimated number of doors knocked on – 80,000
Final vote tabulation for Ohio – Obama: 2,686,609 Romney: 2,586,467
Final vote tabulation for USA (as of today) – Obama: 60,662,601 Romney: 57,821,399
Here's the reason I went to Ohio…
No, Mr. President. Thank you.
The National – "Bloodbuzz Ohio" (official video) from The National on Vimeo.