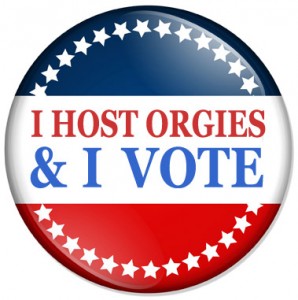 By now you've probably seen the candid footage of Mitt Romney writing off 47% of the electorate during a speech at a private fundraising party. You might have even heard about the host of that party, Marc Leder, and the fact that he has also hosted sex parties.
But I'm here to tell you folks: Don't be hating on Mr. Leder! It's his right to host any kind of party he wants. No one broke any laws. Or at least I assume they didn't. As a person who has attended orgies I must say I detest the invasion of Mr. Leder's privacy. Orgy participants are people, my friends. They are sex-positive citizens who take full use of their liberties (and how). If Mr. Leder wants to be The Great Gatsby with a hard-on that's his right as an American. Freedom doesn't stop at your dangly bits. Democrats should not be prudish and seize on this information for their own advantage. They should loudly support Mr. Leder's freaky ways and tell every Southern values voter that they support GOP orgies. In our great nation you have every right to make a shit ton of money and invite your equally rich friends over to your big mansion to get naked.
The GOP is the party of inclusion. They have members who are Baptists, Catholics, Southern Baptists, Mormons, millionaires, billionaires, & now they can proudly included orgy hosts to their ranks. The Republicans are a big tent party and Mr. Leder is providing the pole. Welcome to the Grand Old Party and pass the lube! As a Democrat I am proud to know there are Republicans like Mr. Leder out there, proudly wagging his freedoms in my face. So stuff it you prudish public! Take that tisk tisk finger out of Mr. Leder's face and put it somewhere that will make you both happy.
Oh wait! Hold on a minute. There's more to this story. From the article in the Rupert-Murdoch-owned NY Post article: "At the Bridgehampton home that Leder rented for a whopping $500,000 a month, guests cavorted nude in a pool and performed sex acts, while scantily clad Russian women danced on platforms."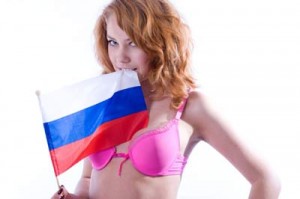 Russians? Were these women professional dancers? Or perhaps even strippers? God damn it! Forget the whole thing. Marc, you're douche. You hired Russian women to dance at your party with so many American exotic dances who are looking for work? You should be ashamed. Didn't you hear that Mitt called Russia our "number one geopolitical foe"? It also doesn't jive with Mitt Romney's strong immigration stance. These women should have self-deported back to Minsk. For shame, Mr. Leder!
– Matthew Ehlers | Eggwork.com